Thermohouse System – The Energy Efficient Eco Home
What is the Thermohouse System?
The Thermohouse modular building system consists of the following components:
We use reinforced concrete and EPS insulation in our homes. The combined properties of these materials results in strong and efficient structures with a reduced impact on the environment and on your energy bills.
Better still is that these homes can be built quickly and easily!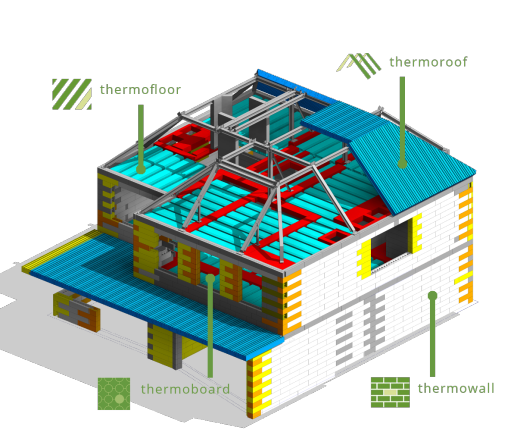 Sustainability at Our Core
Our system can deliver an airtight high quality 'A' rated eco home, free from draughts, dust or mould. Due to their highly insulated and energy efficient nature, they provide year-round comfort at a far lower cost than traditional building methods.
In addition, Thermohouse can easily achieve the 'Nearly Zero Energy Building' (NZEB) standard which is a minimum requirement for all new dwellings in Europe from 2020. This equates to 45 kWh/m2/annum of primary energy consumption.
Thermohouse

– The

complete

energy efficient building system
Our energy efficient ICF wall, floor and roof components are composed of Expanded Polystyrene (EPS). EPS is a form of insulation made up of 98% air and 2% polystyrene making it an extremely lightweight material. It is highly durable and offers a minimum life span of 60 years. Most importantly, its immense energy saving insulation properties has the potential to significantly reduce CO2 emissions.
"Approximately 85% of the environmental impact of a building is related to energy consumption in the building's occupation phase, mainly from the heating and cooling needs of the building user. Therefore, one of the most important environmental aspects of any insulation material is its thermal performance throughout the lifetime of the building."
Excellent long-term performance
Low thermal conductivity –0.030W/mK
Low moisture content
Mechanical strength (to offset user wear & tear throughout life span of building)
Resistance to rot, mould & decay
Resistance to rodent decay
Tremendous potential for energy payback
EPS uses less than 0.1% of global oil as a feedstock, allowing it to save up to 200 times its own resource in thermal energy savings.
In the case of thermal renovation of a house with EPS insulation, the total primary energy for production of the EPS used is saved in just 2 to 4 months!
Environmental Benefits
For commercial construction, EPS applications get the highest possible A-plus summary rating in the BRE Global Green Guide to specification. In addition to the A-plus summary rating, EPS gains 'A' ratings across the majority of the critical environmental performance matrices including:
| | |
| --- | --- |
| Environmental Impact Category | Rating |
| Water Extraction | A+ |
| Mineral Resource | A+ |
| Stratospheric Ozone Depletion | A+ |
| Human Toxicity | A+ |
| Ecotoxicity | A+ |
| Nuclear Waste | A+ |
| Waste Disposal | A+ |
| Fossil Fuel Depletion | A |
| Eutrophication | A+ |
| Acidification | A |
| Summary Rating | A+ |
Expanded Polystyrene Bead
How is a Thermohouse Constructed?
Our walls, floor and roof components can be used individually, or, combined to form an
airtight thermal envelope
.
The full system forms a monolithic concrete structure, fully wrapped in insulation, which is extremely airtight and
free from any cold bridging
.
These eco buildings can be designed and finished to any desired aesthetic. Curved or rectangular, timber cladding or brick – Whatever you imagine your dream home to be, with Thermohouse it is achievable.
All of our system's components exceed the U-values stipulated in the latest version of the building regulations. We can offer an "A" rated envelope using our 300mm standard walling system.
| | | |
| --- | --- | --- |
| Building Element | Thermohouse U – Value W/m²K | UK Building Regulations Part L 2022 |
| Thermowall | 0.10 – 0.20 | 0.26 |
| Thermofloor | 0.16 | 0.18 |
| Thermoroof | 0.15 | 0.16 |
| Airtightness | <1 m3/hr/m2 | <5m3/hr/m2 |
Utilising this system, you will receive an energy efficient building, while also reducing you carbon footprint.
We can also achieve Passive House standard with our Gold and Platinum Passive ICF wall blocks.
The Thermohouse System – Saves money and the Environment.
Why choose Thermohouse?
The Benefits